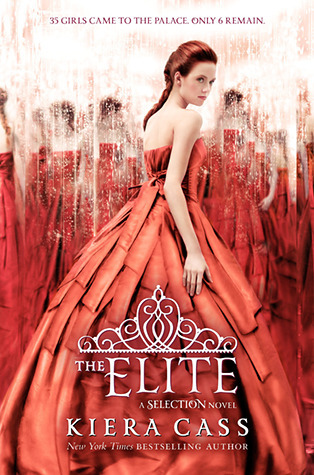 Title: The Elite
Author: Kiera Cass
Series: The Selection
Genre: Young Adult
Format: Kindle
Source: Own
Reviewed by: Emma – The Accidental Writer – Guest Reviewer
Rating: 3 out of 5
Description: The hotly-anticipated sequel to the New York Times bestseller The Selection.

Thirty-five girls came to the palace to compete in the Selection. All but six have been sent home. And only one will get to marry Prince Maxon and be crowned princess of Illea.

America still isn't sure where her heart lies. When she's with Maxon, she's swept up in their new and breathless romance, and can't dream of being with anyone else. But whenever she sees Aspen standing guard around the palace, and is overcome with memories of the life they planned to share. With the group narrowed down to the Elite, the other girls are even more determined to win Maxon over—and time is running out for America to decide.

Just when America is sure she's made her choice, a devastating loss makes her question everything again. And while she's struggling to imagine her future, the violent rebels that are determined to overthrow the monarchy are growing stronger and their plans could destroy her chance at any kind of happy ending.

Review:  
After enjoying The Selection more than I anticipated, I have to confess I found this one to be very vanilla. Nothing really captured my imagination or moved me on an emotional level. Well, other than the negative emotions that America engendered in me due to her insufferable ignorance, indecisiveness and blatant stupidity. Everything that made her a likeable character, someone you rooted for in The Selection, seemed to have been eradicated and replaced with a contrived love triangle, a girl who doesn't seem to mind kissing two guys and a fairly hard to read but spineless prince. It felt to me like this book is filler, stuffing, to pad out what should probably have been one book, maybe two, into the holy grail that is "The Trilogy."
All that being said, the writing's not bad, very simplistic and easy to read and the story finally got going in the last 20%. I probably will read book 3 at some stage, mostly to find out what, if anything, is going on with the rebels.